INTERESTS | Alcoholic drinks and coktails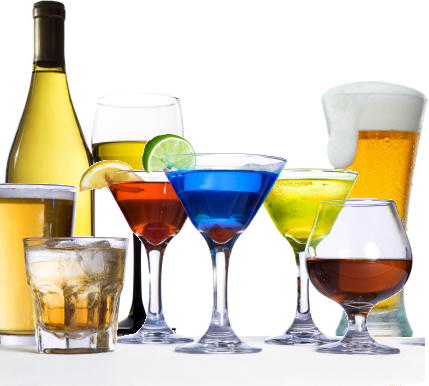 My other interest they are the alcoholic drinks and koktails. For many years I worked in many bars, restaurants, fishtaverns in order to study and make a living. WHISKEYS: I usually, drink american whiskeys and occasionally irish and canadian ones. I avoid drinking scottish whiskeys primarily because the production which is destinated to South East Europe is not the same in taste and therefore in quality and secondly because the market here provides mostly adulterated ones. The only scottish whiskeys that can't be adulterated are the smoked such as Caol Ila and Ardbeg 12 and 10 years old respectively. I also trust the malt scottish whiskeys. The best whiskey for my taste is WILD TURKEY's "Rear Breed", bourbon, 63 vol. It is top of the tops!
COCKTAILS: Regarding cocktails there is total confusion (Every one can fix his own cocktail!!!). As for me, I prefer some of the 57 up to date globally selected cocktails from IBA (International Bartender Association), cause you can check them, for example, Manhattan, Zarina (Tsarina) and classic Alexander. Not that I can't drink some others out of the IBA List since there are thousands of them, increasing every day on, such as Katinka, Gibson. In general I prefer Dry cocktails, Aperitives, After Dinner served on the rocks. Look at http://www.webtender.com/. At home I can fix about 120 cocktails according to the stuff I have.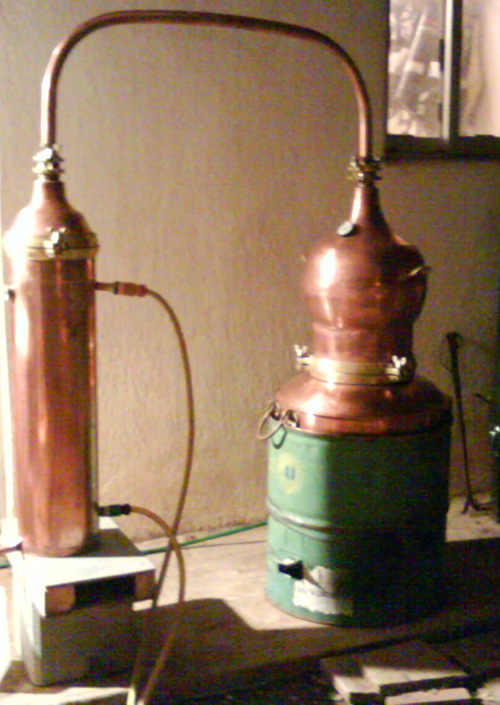 Small vineyard (1/4 of an acre)
VINEYARD: Besides, I possess a small vineyard (1/4 of an acre) to produce my own wine (retsina, unique in Greece) and tsipouro (kind of Grappa) without anise. Both products out in the market, with little exceptions, have many defects, so I make my own, as I have been taught by people I have trust and Knew the traditional way of making. To achieve this I have travelled to Northen Greece to find these people whom I thank from the bottom of my heart for their precious help. I thank, in person, Fontas and Helias and finally old buddy Nikos who introduced me to these people.
BEERS: Regarding beers I like many brands. From the greek production I prefer the brand names of Kaiser and Henninger. From the imported brands I think that the newcomer in the world of beer the first thing he has to do is to look at the production country; If it is Belgium, then he can drink it without second thought; Any brand, blonde, red or dark is firt class: Kwak, Chimay, Leffe, Duvel, Gouden Carolus, Vondel and so many others! There are good brands in other european counties, too: Maisel's Weisse (Germany), Bavaria 8-6 (Netherlands), SAMICHLAUSS (Austria), Orval (Lyxemburg), Saint Landelin (France) and small breweries producing the brand names of Zeos, Athos... (Greece). I think that the top brand names in the world of beers are DEUS and Malheur-dark brut both belgian, made with the technique of champagne in beers. You can visit the Festival of Beer that takes place the first days of every September.
COFFEES: As for coffee I drink espresso and my favourite brand is Mrs Rose. You can visit www.mrsrose.it. I 'm also fan of instant coffee and unique for me is the classic Nescafe in grains.
ORCHARD: Finally I possess less than an acre land where I have planted, since 2007, about 65 fruit trees such as. Finally I add that I have 2,5 acres that I have afterwards planted with fruiterer trees from 2007 and. I have almond trees, quince-tree, apple trees, pomegranates, cherry trees, pistachio-tree, hazels, pear-trees, and a lot of other types that bear in the frosts and the very cold time. Globally I have at the present moment 65 trees and follow constantly. I deal with them when it should and I want to take relaxation. Because I do not accept nothing remains unexploited, even the ground. How many rather the person.
In the end I report that from 15 years I smoke the cigarettes Davidoff MAGNUM -I am fanatic smoker roughly- I smoke 50 years, in my lunchtime espresso 2-3 cigarettes. I believe its enough this i write about me.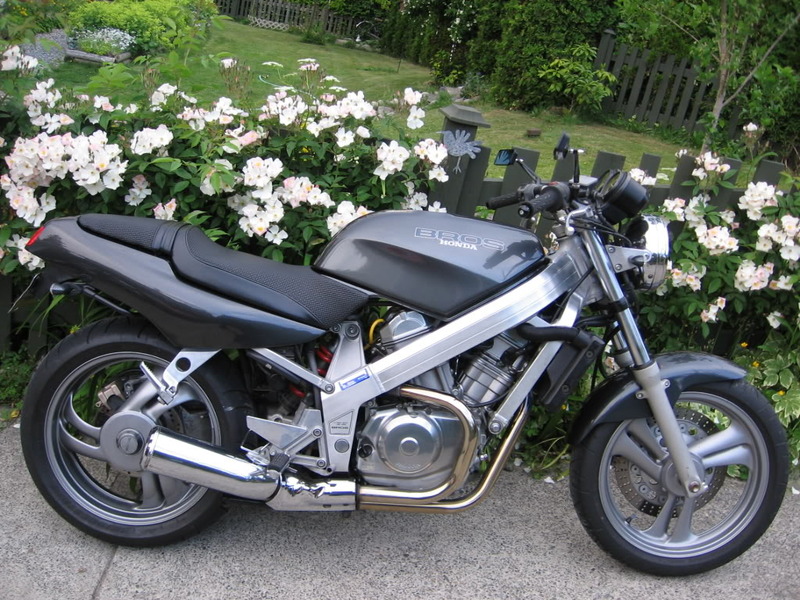 My bike 1992 Honda Hawk GT NT650
Thank you for reading!